Karben Copy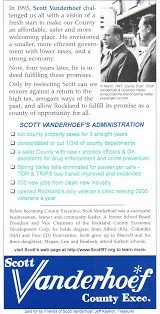 Scott Vanderhoef's Bipartisan Legacy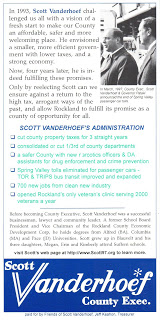 Remember the "Fresh Start for Rockland"?
That was outgoing Rockland County Executive 
Scott Vanderhoef
's 1993 campaign slogan; the energetic pledge of a school board president who vowed to apply non-political, business savvy to a county government weary from the nasty Democratic  primary that forced his incumbent opponent, 
John T. Grant
, from office.
As Vanderhoef prepares to deliver his 20th and final "State of the County" message tonight, it's fair to say the bloom is off the rose.  The county's bond rating is the worst in the state. Its government is approaching dysfunction– unable to award bus contracts, maintain its animal shelter or even agree on a process to dispose of its deficit plagued hospital.
The battled to succeed the moderate Republican, who announced last fall he would not seek re-election, is a race away from his legacy.  None of candidates, in either party, speak well of the incumbent.  Two of the candidates, Republican 
Ed Day
 and Democrat 
Ilan Schoenberger
, will be among the Legislators in the audience listening to tonight's address. Probably more eyes will be on them than on Vanderhoef.
But despite the county's notorious 
fiscal travails
, which began long before Vanderhoef's present term, Rockland voters have kept Vanderhoef at the helm through many political seasons.  In his re-election efforts, he vanquished well regarded state and county legislators and a town supervisor.  When he sought a third term in 2001, he had no major party opposition.
Wild vagaries in the Republican political brand also never impacted his local reign. Democrats who vigorously opposed Vanderhoef campaigns for Congress, State Senate and Lieutenant Governor supported his re-elections.
20 years ago, Vanderhoef energetically promised to run a bi-partisan administration—wise political rhetoric given the huge debate over Democratic Party patronage in that campaign. But it is a promise he kept.
Vanderhoef's administration regularly hired Democrats—in his personal office, as his County Attorney and even as his Commissioner of Finance.  Sure, it kept political opponents at bay by employing Democratic insiders, but it also affirmed Vanderhoef's commitment to avoiding a highly partisan culture in county government.  Republican insiders regularly carped about Democratic hirings, but voters liked the two party approach.  Vanderhoef retained a bipartisan sheen even when the county's lousy fiscal news dulled his ambitions.
That legacy will likely spill over into the administration of his successor, whomever that may be.  Meeting the county's immense fiscal challenges will require bipartisan consensus. Huge departures in county employees over the past few years, and budgetary pressure limiting salaries, will require the next County Executive to search widely, in all parties, for qualified commissioners to help nurse the county back to fiscal health.
I first met Vanderhoef at his first State of the County message in 1994.  In a chat outside the Legislative Chambers after his speech, he asked me if I was interested in serving on one of the county's boards and to send in a resume.  I responded that he must not know I was a Democrat.
"I know exactly who you are and what your party is," he responded.  "I'm not running a partisan government."
And he hasn't.
---